A Panel Discussion Took Place to Commemorate the 120th Anniversary of Tsuda University
As part of its commemorative projects for the 120th anniversary, Tsuda University held a panel discussion on October 10th, 2021, titled the theme: "Empowering Women to Make a Difference—Considering the Significance of Women's Universities in the 21st Century through the Bond of Tsuda and Bryn Mawr."

The first half of the event featured two video messages, beginning with congratulatory remarks from President Kimberly Wright Cassidy of Bryn Mawr College. This was followed by a dialogue between Dr. Emily Murase, the former Director of the San Francisco Department on the Status of Women for the City and County of San Francisco, and Mr. Kenji G. Taguma, Editor-in-Chief, Nichi Bei Weekly.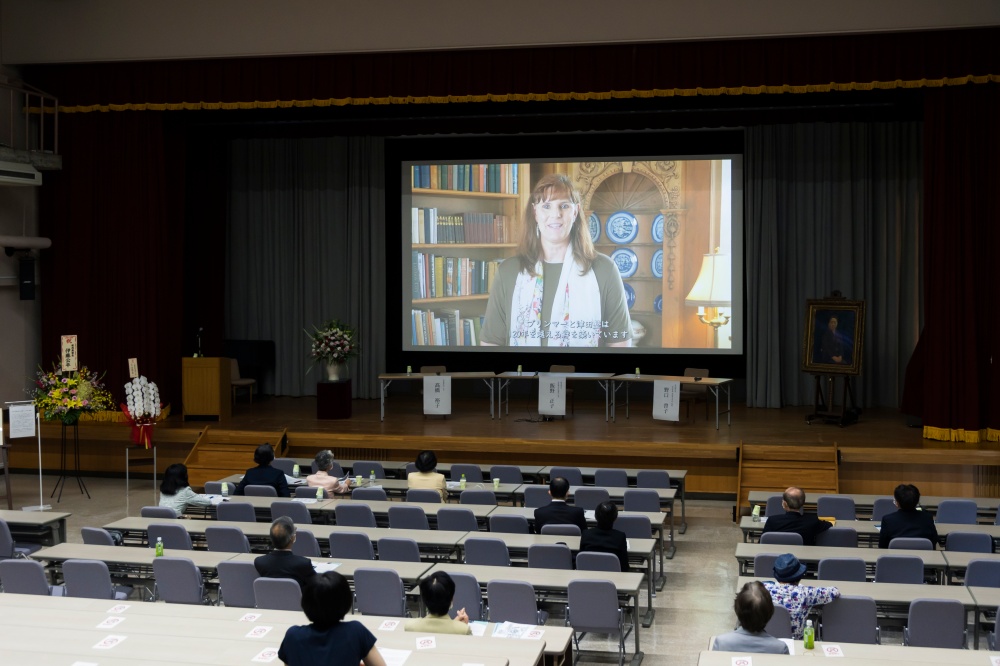 In her speech, President Cassidy touched on the historical ties between Bryn Mawr College and Tsuda University, and noted the value of attending women's college: "women's colleges offer young women a distinctive educational opportunity in which women are the focus, and a leadership position. All of our opportunities are for women." She also gave an empowering message to us, "as institutions, we can help make a difference for all women."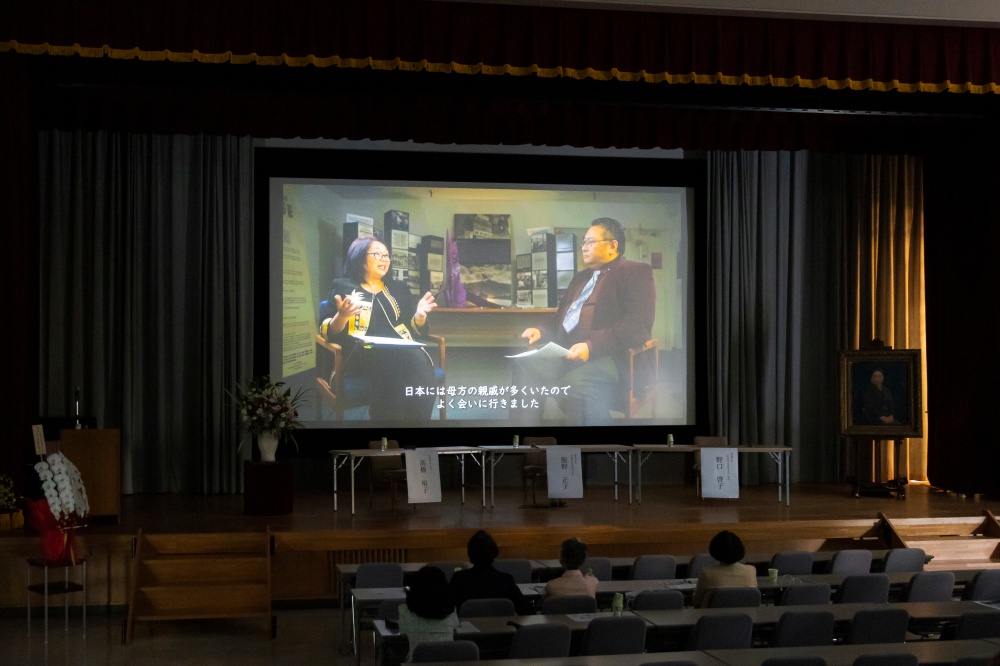 Dr. Emily Murase is an almuna of Bryn Mawr, who studied at Tsuda as an exchange student. After reflecting on her memories of Tsuda, Dr. Murase and Mr. Taguma talked about Umeko Tsuda and her sister Yonako Abiko's legacy, which had created networks throughout the U.S. and brought transnational, cross-cultural friendship and understanding when Jyoshi-Eigakujyuku faced hardship by the Great Kanto Earthquake in 1923. Dr. Murase also emphasized that there is a very important role for women's universities until there is gender parity everywhere in our society.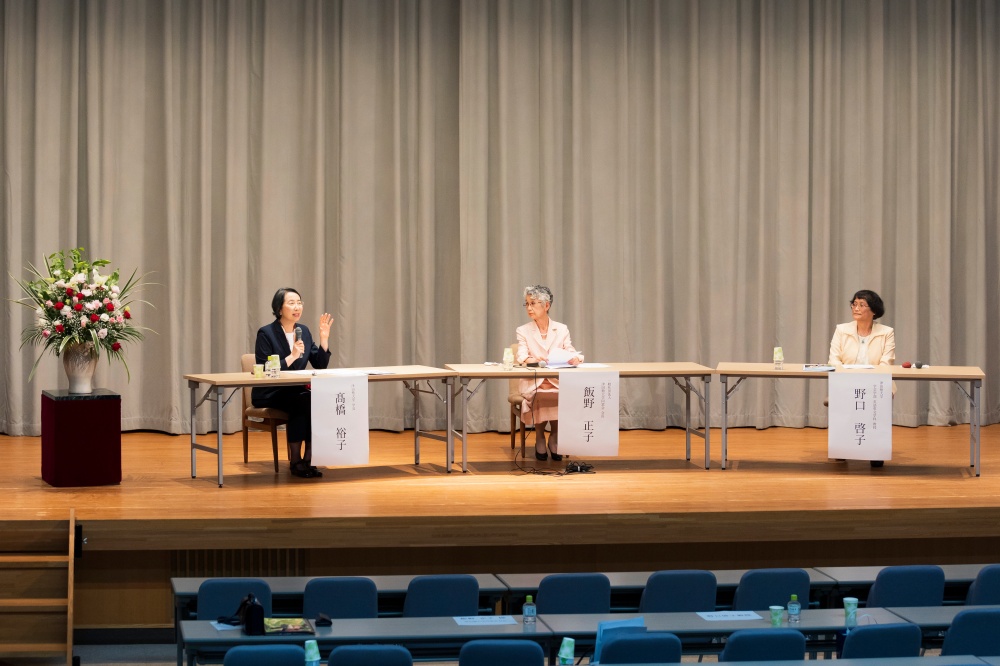 Following these videos, the panel discussion took place with President Yuko Takahashi, the former president of Tsuda and President of Tsuda University Alumnae Association Masako Iino, and Professor Keiko Noguchi.

As for the significance of women's colleges, they noted various female role models that women can experience by being placed in the "center", not only faculty members but also senior students, and male faculty members who can support women in their activities.

Reflecting on Tsuda's 120 year history, panelists reaffirmed that the university was established and has been supported by a network of women working together, and concluded that the university's mission can be achieved by strengthening this global network.




Speaker Biographies
Kimberly Wright Cassidy
Kimberly Wright Cassidy has served as President of Bryn Mawr College since 2014. A developmental psychologist, Cassidy served as the College' s Provost from 2007-2013, and has been a member of the Psychology Department since 1993.

Cassidy has promoted academic innovation and has partnered with faculty to develop new multi- and interdisciplinary academic programs and to advance new approaches to teaching in a liberal arts context.

Cassidy led development of Excellence in Action, a strategic vision for Bryn Mawr' s undergraduate college, as well as initiatives to enhance the College' s distinctive, select graduate programs. She has also forged a broad institutional commitment to advancing diversity, inclusion, and equity.

Cassidy is a public advocate for gender equity, with a focus on equity issues in STEM disciplines and workplaces.

She earned her M.A. and Ph.D. from the University of Pennsylvania and bachelor' s degree with distinction in psychology from Swarthmore College.
Emily Murase
Dr. Emily Murase is a third-generation Japanese American whose career has been dedicated to gender equity, ending violence against women, and international relations. For the past 15 years, Dr. Murase served as Director of the San Francisco Department on the Status of Women for the City and County of San Francisco where her pioneering work earned recognition from the UN Institute for Research and Training, Ms. Magazine, and members of the California State Legislature. She secured over $10 million in federal, state, and private grants to end domestic violence and human trafficking. Active in her children's education, Dr. Murase became the first Japanese American to be elected to the San Francisco Board of Education in 2010 and served two terms, including as President. There, she formally reversed the infamous 1906 school board policy that segregated Japanese and Korean students from other students and led to an international dispute later resolved by the controversial Gentleman's Agreement limiting Japanese immigration to the U.S.

Previously, she was an award-winning account executive for AT&T Japan Network Systems, supporting $25 million in joint development projects between AT&T Bell Labs and Nippon Telephone & Telegraph. Then, she was appointed Director for International Economic Affairs at the inaugural National Economic Council/National Security Council in the first Clinton White House. As a member of the International Bureau of the U.S. Federal Communications Commission, she served as a member of the U.S. delegation to the Asia Pacific Economic Cooperation Forum Telecommunications Working Group. In 2013, she was selected as a member of the Japanese American Leadership Delegation led by U.S.-Japan Council President Irene Hirano Inouye, meeting with Prime Minister Shinzo Abe, Foreign Minister Fumio Kishida, and other political and business leaders. Later, Dr. Murase hosted First Lady Akie Abe for her historic visit to San Francisco in 2015. As US-Japan Council Regional Chair, 2017-2019, she organized study sessions focused on Womenomics and launched Japanese Americans and Japanese in American (JAJA) Northern California in partnership with Japanese Consul General Tomochika Uyama. As a Board Member of the San Francisco-Osaka Sister City Association (2005-present), Dr. Murase chaired the Student Ambassador Program (2010-2012). As a Visiting Professor of Osaka University, she delivered an annual lecture on gender equity to undergraduates (2015- 2020). For over a decade, she has led a San Francisco delegation to the UN Commission on the Status of Women meetings and presented regularly to numerous international delegations hosted by the U.S. Department of State on strategies for advancing gender equity (2005-2020).

A member of the Council on Foreign Relations and Soroptimist International San Francisco, she serves as North American Coordinator for the International Alliance of Women and advisor to the United Nations Association of San Francisco. Raised in San Francisco Japantown, Dr. Murase has had a lifetime of experience with key community organizations, including as a hot meals volunteer for Kimochi Senior Services, a magazine writer for the Japanese Community Youth Council, a Troop Leader for the San Francisco Buddhist Church Girl Scouts, and a board member for the Japanese American Citizens League San Francisco Chapter.

Dr. Murase holds a BA from Bryn Mawr College, a master's in International Pacific Affairs from UC San Diego, and a PhD in communication from Stanford. She resides with her husband in San Francisco where they raised their two now adult daughters Junko and Izumi.
Kenji G. Taguma
President, Nichi Bei Foundation
Editor-in-Chief, Nichi Bei Weekly

Award-winning journalist Kenji G. Taguma, a native of Sacramento, Calif., is the founding president of the Nichi Bei Foundation. As the Nichi Bei Times was closing in the summer of 2009, he led the movement to create the Nichi Bei Foundation, an educational and charitable nonprofit organization which launched the first nonprofit ethnic community newspaper of its kind in the country, the Nichi Bei Weekly.

The Nichi Bei Weekly represents the third incarnation of a legacy of community leadership through media that began with the Nichi Bei Shimbun published from 1899-1942 by Kyutaro Abiko and Yona (Tsuda) Abiko — the younger sister of Tsuda College founder Umeko Tsuda — and the Nichi Bei Times, which was founded in 1946 to get the Japanese American reconnected after their wartime incarceration in American concentration camps. Leaders of the postwar Nichi Bei Times included Shichinosuke Asano, a protégé of the first commoner prime minister of Japan Takashi "Kei" Hara, and Yasuo Abiko, the only child of Kyutaro and Yona Abiko and Umeko Tsuda's nephew.

Currently, Taguma serves as the President of the Nichi Bei Foundation, the Editor-in-Chief of the Nichi Bei Weekly, and the Executive Producer of the Foundation's Films of Remembrance, an annual showcase of films related to the Japanese American incarceration during World War II. He previously served as the English section editor and vice president of the Nichi Bei Times — Northern California's oldest Japanese American newspaper at the time — until that publication folded in 2009.

Prior to his work at the Nichi Bei Times, Taguma was the Community Information Officer at the Sacramento Human Rights/Fair Housing Commission. In October of 1998, Taguma received the distinguished Alumni Honors Award from California State University, Sacramento.

In 1999 Taguma received the Community Service Award from New California Media for an article that documented the struggle for redress by Japanese American railroad and mine worker families, whose family heads were fired from their jobs during World War II at the hands of the U.S. government. Less than two months after the story ran, the victims were granted redress from the U.S. government.

In 2004, Taguma helped to lead a team of Nichi Bei Times staff members who put together a joint Japanese-English series dealing with the issue of whether or not Japanese Americans had a responsibility to serve as a bridge between U.S.-Japan relations, as well as dealing with the issue of cross-cultural communications between English-speaking and Japanese-speaking members of the community. That series won the 2005 Grand Prize Award from the Overseas Japanese Press Association in Tokyo, Japan.

In 2013, he was awarded a Consul General Award from Consul General of Japan in San Francisco Hiroshi Inomata, for his "distinguished achievements in contributing to mutual understanding and friendship between Japan and California," the youngest to ever earn the award in the region.
Related Information