Employment Data
Undergraduate Students
Tsuda students are eager to contribute to society. Each year about 90% of the seniors seek employment. This year 98.6% of all jobseekers found employment (the Department of English 98.7%, the Department of International and Cultural Studies 98.5%, the Department of Mathematics 97.4%, the Department of Computer Science 100.0%). As can be seen from the pie charts below, a high percentage (90%) of the students who found positions were employed by institutions (firms, schools, etc.) which were either their first or second choice. Also, it is noteworthy that nearly all Tsuda's new contributions to the work force (95%) chose career-track positions or professional positions, indicating their desire to work equally with men over the long term.
Career Paths
Tsuda students have a wide range of interests and talents, and although there are of course some differences by department, those interests and talents are reflected in the wide range of areas in which they sought and found work.
Industry Employment Data of Students Graduated in March 2020
Graduate Students
Career Paths after Graduation - Results of Students Graduated in March 2020
                                           
Graduate Programs
Graduates
Employed
Continuing
Education
Other*
English Language and Literature
MA course
13
6
2
5
Ph.D course
1
1
0
2
International and Cultural Studies
MA course
3
2
0
1
Ph.D course
0
1
0
0
Mathematics and Computer Science
MA course
8
7
1
0
Ph.D course
1
1
0
0
"Other" includes graduates working as part-time instructors, and graduates who are preparing for studying abroad, or to become high school teachers, or public servants, etc.
Career Support Program
A wide variety of programs are held for students. They include company briefing on campus (about 100 companies a year), and sessions provided by senior students who have received job offers.
For international students, detailed information is provided about job opportunities and employment trends of international students, their working conditions, industry studies and self-analysis from their perspective.
Career Center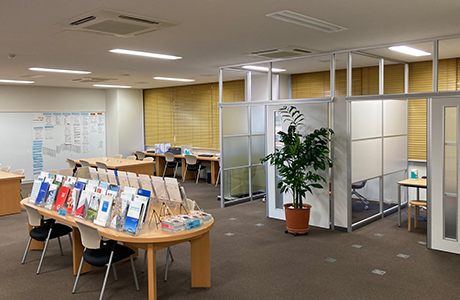 The Career Center offers individual consultation and various support to each student. The center also provides job listings for international students and information about job fair for such students.
Internship
A variety of internship programs are introduced to students. They mainly include ones from private enterprises in addition to ones from public offices, such as the Ministry of Foreign Affairs, and municipal governments. An internal internship program at the university is also available for international students.